Ultrasound Certification: Supercharge Your Sonography Career
Are you a sonography student or a new graduate hesitant about taking your first certification exam? Or maybe you're a seasoned sonographer looking to add another credential to your name? Either way, earning a professional credential can do wonders for your career.
These credentials are awarded by top organizations like the American Registry for Diagnostic Medical Sonography(ARDMS), Cardiovascular Credentialing International (CCI), and American Registry of Radiologic Technologists(ARRT) and show that you've met rigorous criteria and passed a comprehensive exam.
But what exactly can they do for you?
Keep reading to find out how earning your first (or fourth) credential can take your sonography career to the next level.
1. Amplify your earnings.
In 2021, the median salary of ultrasound technologists in the United States was $77,740, though this figure can vary by state. Obtaining additional registries is a useful strategy if you aim to boost your income potential in this field.
In fact, some employers may offer raises for each credential earned; for instance, a sonographer in California reported that their hospital provides a 3% increase for each registry!
Additionally, having multiple registries can help you stand out from other job candidates, enabling you to leverage a higher pay rate with an impressive resume.
Speaking of resumes, it is common practice for sonographers to include their professional credentials right after your name.  For example:
Sonny Grapher, RDMS, RDCS, RVS, RT(S)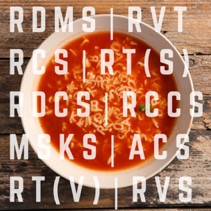 Don't know where to showcase your professional credentials without making it look like alphabet soup? Don't worry; there's a great spot for them in your resume – the summary section. Right after your contact info, the summary section is where you can highlight your credentials and define them if they cover multiple specialties.
Why is this important? Because you want to make sure that potential employers know right away that you have the credentials they're looking for. It can help you stand out from other candidates and show that you meet their key criteria. So, make sure to include your credentials in your resume summary and let your qualifications shine!
2. Boost your confidence and credibility.
Preparing for a specialty sonography exam is a significant undertaking that requires months of dedicated study. The process involves poring over numerous diagrams, diseases, patient symptoms, and ultrasound images to master the subject matter.
However, earning a sonography certification is a significant accomplishment that should be celebrated!
It sets you apart as an expert in your field and enhances your ability to evaluate patients and provide accurate diagnostic imaging. Moreover, being a registered sonographer enhances your credibility with other medical professionals and patients.
You might be thinking that patients are completely unaware of what it takes to be a sonographer (and you might be right), so why do they care if you are registered or not?
Well, have you ever heard the phrase AIDET?  It outlines five essential steps in patient communication that have proven to enhance patient satisfaction and reduce anxiety for staff and patients. AIDET stands for:
Acknowledge
Introduce
Duration
Explain
Thank
The "introduce" step is particularly relevant here. Introducing yourself with your name, skill set, professional certification, and experience can go a long way in building trust with your patients. As a new sonographer, it can be tricky to manage-up your skills when introducing yourself. Having credentials behind your name will give you the confidence to really "sell" the value you bring to the patient.
How amazing will it be when you can say, "I'll be the registered sonographer performing your scan today?"
3. Spark your career opportunities.
One of the primary concerns among ultrasound students and new graduates seeking their first job is the difficulty in securing an interview. However, the culprit behind this issue is often not the candidate but the automated applicant tracking systems most employers utilize. These systems use keyword searches to screen applications and frequently reject candidates who do not meet specific criteria, such as being a registered sonographer.
During my own job search, I experienced similar challenges. It was complete crickets until I was a registered sonographer on my applications. My interview rate skyrocketed once I hit this milestone, as employers could identify my qualifications quickly.
The benefits of obtaining ultrasound credentials extend beyond just new graduates, though. Even experienced sonographers can benefit from additional registries, as some positions may require specific specializations or offer promotions to those with multiple credentials. For example, a "super-tech" with a diverse skill set can be highly desirable for employers seeking expertise in multiple areas of sonography.
Did you know that acquiring specialty credentials in emerging fields of sonography can open up new job opportunities that may not be available to those with fewer or more common credentials?
And here's a fun fact: out of over 100,000 credentialed professionals, only 96 people currently hold all four primary credentials offered by the American Registry of Diagnostic Sonographers. That's a pretty rare accomplishment – you could even call those folks "unicorns" of the sonography world!
4. Stay current with advancements in the field.
As a sonographer, it's essential to keep learning because the field of sonography is constantly changing. But don't worry, there's some good news! Professional organizations require Continuing Medical Education (CME) credits to maintain registry status, which means you have plenty of opportunities to learn and earn credits at the same time.
For example, you can earn credits by reading articles from industry journals like the Journal of Diagnostic Medical Sonography (JDMS), attending conferences for your national or local sonography organizations, or even attending a webinar/seminar that can help you prepare for your next examination.
These activities not only help you earn credits, but they also give you a chance to connect with other sonographers, stay up-to-date on the latest developments in sonography, refresh your knowledge on the basics, or even discover new uses of ultrasound. By taking advantage of these opportunities, you can continue to grow as a professional and stay at the forefront of our field.
5. Illuminate your commitment to the profession.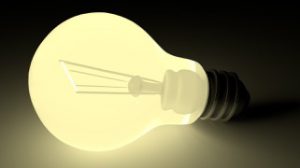 When you work hard to earn professional credentials in sonography, it shows that you're committed to your career and willing to put in the effort to improve your skills and knowledge. Plus, it can help you stand out in a crowded job market and earn more respect from colleagues and employers.
But that's not all – as you learn new skills and prepare for your exams, you'll likely feel more engaged in the field. This feeling of engagement is crucial for job satisfaction, so if you're feeling a little stuck, why not try studying for a new credential? Achieving your goals can help shake things up and reignite your passion for ultrasound. So, don't be afraid to challenge yourself and show your commitment to the profession.
Investing in your career by earning a professional credential is a smart move that can pay off big time. And if you're ready to take that step, we're here to help.
Stay tuned for our deep dive into the world of ARDMS, CCI, and ARRT – the top organizations in sonography credentialing. We'll give you the inside scoop on their exams and the credentials they offer, so you can make the best choice for your career.
With our expert tips and guidance, you'll be well-prepared to take your sonography career to the next level. So, what are you waiting for? Let's get started!