Interactive live seminars
There's an enormous amount of content to digest to pass an exam.
It doesn't matter where you are in your career, the medical field of sonography requires understanding a huge amount of content in order to pass registry exams. This is enough to overwhelm the best sonographer.
No sonographer should have to navigate an endless amount of information alone.
you're burdened with the pressure of taking the exam.
you're losing sleep because your job is on the line.
you're unsure you can retain all the information needed to pass.
We've created a simpler way to prepare.
ESP is different than most online registry review courses. We don't rely on just one way to prepare for certifications. Instead, we use a combination of our people, our methods, and our resources to make sure you'll be ready to face your exam with confidence.
People
Our faculty is here for you. While other registry instructors teach you everything they know, ESP instructors teach you everything YOU need to know.
Method
We break down the exam outline into an easily understood format focusing on the relevant content. This makes it easier to retain the knowledge for the exam.
Resources
Registration includes a workbook with plenty of space to take notes. It also includes X-Zone-our practice test to help set you up for success!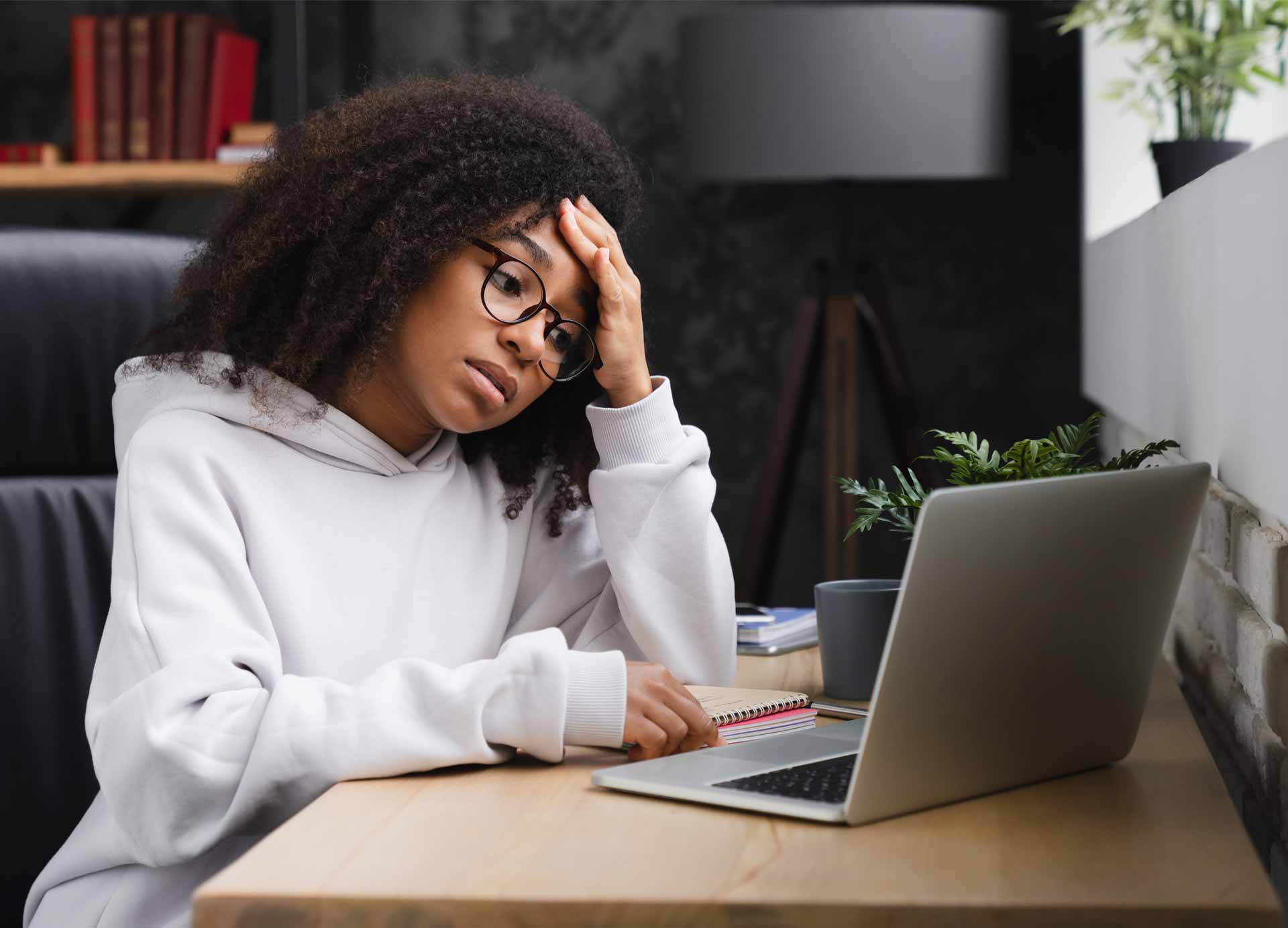 We understand the pressure you are facing.
Our instructors faced these challenging exams too. That is why we created a simpler way to prepare for the test. With 30+ years of creating successful learners, we can help you prepare to pass your exam and achieve your certification!
A three-step plan for success.
Register
Choose your course and register. We offer multiple classes every month.
Attend
Attend and practice. Your registration comes with resources you need to successfully prepare for your exam.
Test
Tackle your exam with confidence. We don't want to brag, but you may actually enjoy taking the exam.
It's an investment in your career.
We've helped thousands of sonographers just like you pass registry exams. A career in sonography is rewarding as you can make a real difference in patients' lives through diagnostics.
Understanding Ultrasound Physics Textbook
An essential resource for sonographers

Complex content in easy to teach & learn formats

X-ZONE: 120 practice questions included

Written by Sidney K. Edelman, Ph.D.
Live exam prep webinars
Interactive, live webinars

Comprehensive registry review workbook included

X-ZONE: online practice questions included

Taught by experienced subject matter experts

Focused content
Study Tools
Quiz cards in Q & A format to identify content requiring additional study

Video cases to review Adult Echo Anatomy & Pathology tested on the exam

Created by experienced subject matter experts

Quizzes to confirm your specialized knowledge and practice test-taking
On-demand cmes
Relevant content to enhance technical skills

Easy to follow video & question format

Credits accepted by ARDMS, CCI, ARRT, & Sonography Canada
Don't take our word for it.
9 out of 10 sonographers who attended an ESP webinar said they would recommend us to you!
"I really liked how interactive it was."
I was definitely overwhelmed before taking the registry exam. It covered a LOT of material. But the seminar was very good at organizing the concepts you need to pass the test. It was streamlined and easy to understand. The book provided was the only one I needed to pass the exam. I really liked how interactive it was. I even emailed one of the instructors after the course, and he responded to me not even 48 hours later. The instructors truly do care about helping you succeed. I can say this was the best resource available for preparing for the ultrasound registry exams by far.
Robert
RVT
"After 8 years of being a sonographer, I finally did it and I wish I had done it sooner!"
Before taking the course, I felt nervous because it was my first time doing an ESP course. Afterwards, I felt confident. I learned so much. The teacher was great at answering questions and explaining things in a simple matter. He was detailed without being too detailed. He clarified the things I wasn't 100% confident on. He made real life connections and added to my current knowledge. If you haven't used ESP to help you pass the exam, DO IT! You will not regret taking it. After 8 years of being a sonographer, I finally did it and I wish I had done it sooner!
Samantha
RDMS
"My test-taking confidence was broken. ESP gave that back to me!"
I took the exam once before and did not pass. My test-taking confidence was broken. ESP gave that back to me! The ESP webinar allowed me to take full control of the information to be fully prepared to take my exam. Also, ESP's X-zone helped me to problem solve so I can select the 'BEST' answer when taking the exam. I loved how available Jeanie was after taking the review course when I had questions while studying. The review was successful in giving me the information I needed, but that extra help allowed me to understand the information. TAKE THE ESP REVIEW. It is worth every penny!
Patrice
RDMS, RVT
Overcome the stress of taking the test.
To be a sonographer and advance your career, you will need to tackle a registry exam. We have created a simpler way for you to do that. Our professors love helping you break down the content and focus on what you need for the exam. Here are a few questions we commonly answer.
What do I get with a webinar registration?
With your registration, you will receive the following:
Course workbook (will be mailed to you)
Access to the live, interactive registry review webinar
6 weeks access to X-ZONE, our online practice exam questions
12 Continuing Education Credits issued by the SDMS.
Disclaimer:  Each registrant ensures they understand that most certification organizations do not apply credit for repeated SDMS CME Activities during the same certification period.

When will I receive my workbook?
Our primary goal is to ensure you have the workbook before the start of the webinar. About 2-3 weeks out from the date of the webinar, we start the workbook shipment process. Workbooks are shipped in order of registration. If you register early, your workbook will be shipped in the first batch shipment. If you wait to register until the last day (the cut-off date), you will receive your workbook a few days before the webinar begins. We recommend you register as soon as you are able to avoid any shipment complications. Tracking information for your workbook will be e-mailed to you. That e-mail may get filtered to your spam or junk folder so please check those regularly.
What is X-Zone?
To solidify what you learn in the webinar and your course workbook, you need to challenge yourself with practice questions. X-ZONE is our online platform that contains the practice questions for each course. You will have 9 months from the date of your registration to activate X-ZONE. Once activated, your 6 week subscription will begin.
When should I take my exam after the webinar?
Generally speaking, you shouldn't take your test too early (right after the webinar) or too late (many months or years after the webinar). Ideally, you'll give yourself at least a couple of weeks to 3 months (max) to reread the course workbook, study your notes, and practice in X-ZONE. If you take the test too early, you don't give yourself an opportunity to practice what you've learned after the course. If you take the test too late, you will forget much of what you learned from the webinar.
After I pass the exam, then what?
Then you finally get to sleep, see the sun, hang out with your friends again, and spend time with your family!
All kidding aside, we want to share in your good news! E-mail a headshot of you holding your pass results to info@esp-inc.com. Please include a brief testimonial on how ESP helped you pass. We will send you a free ESP T-shirt.
Can I cancel my registration and get a refund?
We get it, life happens. If you need to reschedule, follow these guidelines:
To transfer to another course within the same calendar year at no cost, simply email info@esp-inc.com.
To cancel your registration, email info@esp-inc.com. If the following conditions are met, you will be eligible for a refund less a $50 administrative fee:
You have not activated your online subscription to X-ZONE.
We have not shipped your workbook.
You will not be eligible for a refund if any of the following conditions are true:
You have activated your X-ZONE subscription.
Your workbook has been shipped.
You attended the seminar.
May I audio or video record the webinar?
Audio and video recording is strictly prohibited. All participants who register agree to abide by our Terms of Use.
You shall not copy, reproduce, republish, upload, post, transmit or distribute the Service or the Materials in any way. You shall not sell, resell, license, sublicense, rent, lease, transfer, assign, distribute, grant a security interest in, or otherwise transfer any rights to, or commercially exploit, the Service or any Materials contained in or made available to you in the course of using the Service or use the Service to run or as part of a service bureau, outsourced, or managed services arrangement.
Do I need the textbook for the webinar?
As helpful as the Understanding Ultrasound Physics textbook is, it is not necessary for taking our prep courses.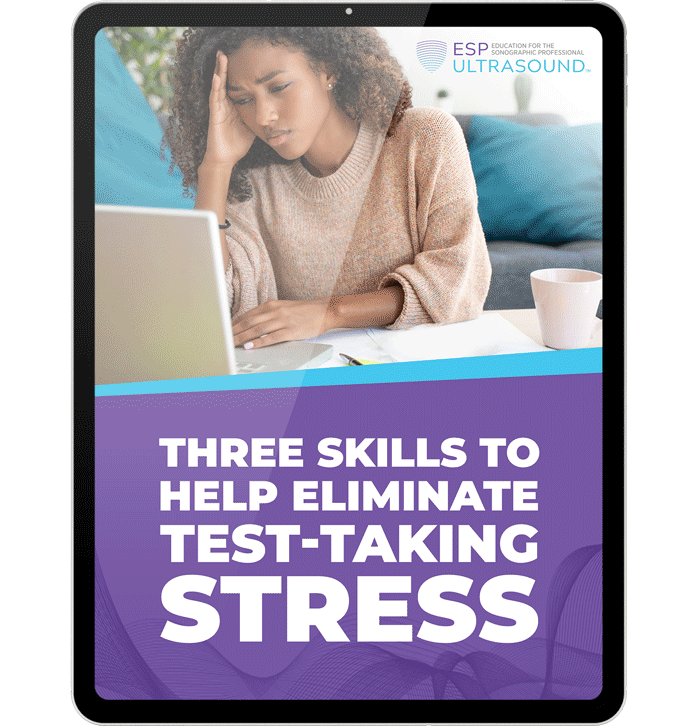 Three skills to help eliminate test-taking stress
Download these helpful study strategies to help you prepare for your certification exam.