Are you planning to take the sonographic principles and instrumentation (better known as the SPI) exam from the ARDMS?
If so, it is completely normal to feel kind of excited and nervous!  Passing the SPI is a huge milestone in becoming a registered sonographer. 
Let's take a closer look at this exam and cover some tips along the way.  
Please note that it is important to verify all information with the ARDMS before making any decisions. While the information provided is current as of August 2023, it is important to remember that situations may vary, and updates may occur.
But first things first:
What is the ARDMS SPI exam?
The SPI  exam is a computer-based exam that assesses your knowledge of sonography physics and instrumentation. It is one of the prerequisites for becoming a registered medical sonographer through the American Registry for Diagnostic Medical Sonography (ARDMS).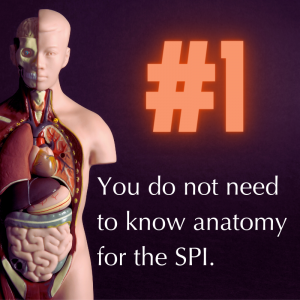 The exam consists of 110 multiple-choice questions and is usually taken at one of the Pearson VUE testing centers or at home. You have two hours to complete the exam, and a passing score is 555 out of 700.
Before 2009, the physics test you had to take depended on the credential you were pursuing. For instance, if you wanted to become a registered diagnostic medical sonographer (RDMS), you'd take the general physics exam. On the other hand, If you wished to become a registered vascular technologist (RVT), then you needed to take the vascular physics exam.  This all changed with the introduction of the SPI. Now, all specialties take the same physics exam. Since all modalities utilize this exam,  no anatomy knowledge is needed. 
I'm sure you're wondering, though…
What do I need to know for the SPI?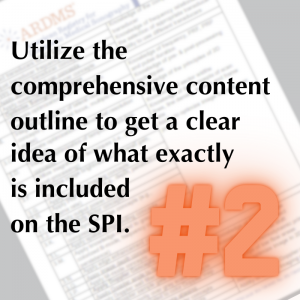 One of the best things you can do is familiarize yourself with what is included in the SPI. The exam covers a wide range of topics related to sonography physics and instrumentation, including ultrasound principles, Doppler principles, image artifacts, transducer selection, and more.  In fact, you can get a detailed content outline directly from the ARDMS.  This is one of my favorite resources for anyone preparing to take the exam. 
To help you study, ARDMS provides a detailed content outline for the exam. This outline breaks down the topics that will be covered on the exam, along with the percentage of questions that will be devoted to each topic.
It's important to go through the content outline thoroughly and use it as a reference while studying. Prioritize the topics that will be given more weightage in the exam and ensure you have a firm grasp of the fundamental concepts.
To find the detailed outline go to https://www.ardms.org/get-certified/spi/ → Click on the "Prepare" tab → Click on the "Review the SPI Content Outline" → choose the SPI Content Outline that applies to you.
It's important to know (but don't stress)…
The SPI is changing on September 1, 2023
Yes, there are currently two options of content outlines to choose from: the current outline and a future outline. Come September 2023, the new test will be in effect. 
No need to worry. Although the test content is changing, the principles of physics remain the same. The main difference is the new category names and their respective weightings.
For example, the current test has "Ultrasound Transducers" at 16% of the exam or about 18 questions that cover everything transducers. On the new exam, you'll see that "Manage Ultrasound Transducers" is now only 7% of the test (8-ish questions). Although it is not certain, it seems that the new exam places less emphasis on the various types of transducers and more on their components and functions.
Based on the major content changes, it appears that the ARDMS is now emphasizing the application of physics. A new category called "Optimize Sonographic Images" will make up 26% (28 questions) of the exam. Each subcategory begins with either "apply" or "integrate" and covers various topics, including resolutions and 2D imaging tools. While this category draws from multiple current categories, it is mostly a reorganization of existing material and not entirely new. 
Based on my estimation, the knowledge you gained from your college physics course or a review course should be sufficient in preparing you for the new content. Be prepared to think more from the application point of view. What settings should you change to optimize an image?
Create a study plan…and then study!
To prepare for your exam, begin by choosing a test date and then working backward from there. Determine how much time you can dedicate to studying each day or week, and then create a schedule that details what you will cover each day. This will help you stay on track and maximize your study time. It's important to schedule time for practice exams too.  
But you have to use practice exams wisely. 
Many students rely solely on taking multiple practice exams to study. However, these exams only have a finite number of questions in their question bank, causing questions to eventually repeat. 
This is where students often get deceived.  
You may gain a lot of knowledge from the practice tests, but it can be difficult to differentiate between recognizing the answer and truly comprehending it. With repeated exposure to a question, it becomes easier to recognize the correct response, leading to higher test scores. However, it's important to question whether you have truly grasped all the necessary information.
Take a look at this example. Let's say you're in a class learning about national flags, and for your test, you need to know what all the flags look like and their meanings.  Here is a sample test question:
What country's flag features a red maple leaf on a white square in the center, bordered by two red rectangles on a white background?
Canada

Japan

United Kingdom

France

None of the above
It's possible that you already knew the answer to this question, or you may have learned it while going over your responses, which is excellent. It's a good idea to review any incorrect answers to improve your understanding. If you come across this question again, it's likely that you will respond with "Canada".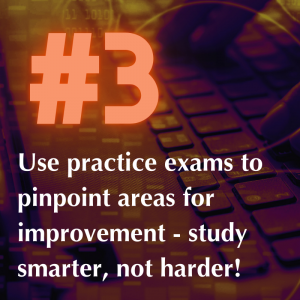 But don't stop there! Go and look up what Japan, France, and the UK's flags look like too. It's unlikely that you'll get the exact same questions on your test, and you'll want to be as prepared as possible. Try to go through every question and figure out why the correct answers are correct and the wrong answers are wrong. 
Using practice exams is an effective method to pinpoint your areas of weakness and improve your skills. It's important to review your test results and analyze the patterns in both your correct and incorrect answers. By doing so, you can determine which topics to prioritize in your studies. For example, if you struggled with quality assurance questions but excelled in those related to transducers, you may choose to focus on studying QA and skip transducers.
What should I study for the SPI?
Next, you'll want to invest in high-quality study materials to help you prepare for the exam. There are many resources available, including textbooks, online review courses, and practice exams.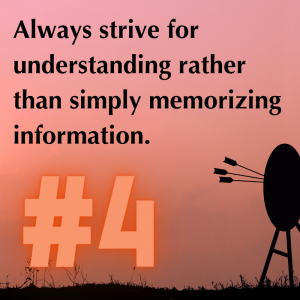 When choosing study materials, make sure you look for resources that are up-to-date and comprehensive. You'll also want to choose resources that are aligned with the content outline for the exam.
As you continue to engage with the material, you may find that hearing or reading certain concepts explained in different ways helps you to better comprehend them. It's important to always strive for understanding rather than simply memorizing information. Remember to take your time and be patient with yourself as you work towards mastering the content. The more you practice, the easier it will become.
Don't stress about the SPI exam, but prepare well by familiarizing yourself with the content outline provided by ARDMS.
Create a study plan that includes understanding the material, not just recognizing the answers. The exam is changing in 2023, but it's just a reorganization of existing material. Stay focused and give it your best shot! We're here if you need any help.